I am not sure what one says to the Queen on her Diamond Jubilee. Â 'Congratulations!'? Â 'Well done, Ma'am!'? Â 'Jolly good jubilee!"? Â 'Great weather, heh? Â Typical.'? Â Whatever it is polite to say, I'd like to thank her for the extra day Drew had off work.
We didn't do much jubilee-ing, but we did attempt to see the flotilla on Sunday. Â Unfortunately, we didn't get close to the river (I can't imagine how early we would have had to get there to see the river). Â Elsa made sure that Kenneth was captured in his red, white, and blue.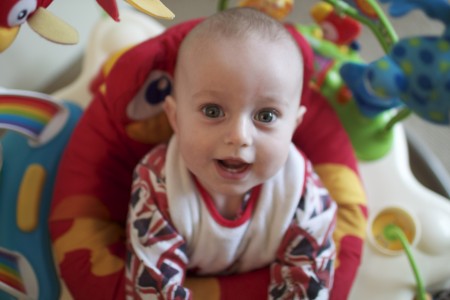 We also attended a concert with a jubilee theme. Â Kenneth didn't seem to notice the beautiful music, but it was nap time…. Â Speaking of sleep, Kenneth has begun sleeping in his own bed, in his own room. Â Mummy is exhausted, but it has been very worth it, I think, for us all to begin this process.
So, um…. Happy Diamond Jubilee ya'll!